Opening hours
The Cablepark will stay closed until April 2020.
Other activities are still bookable via info@outsider.be
Reservations
Individuals: You can simply buy a ticket at the register or online via the link below.
Groups can reserve via
055 20 70 30 or via
info@outsider.be
Corona measures

From Wednesday 18/05, the Cablepark will be open again for everyone!
WHAT DO YOU NEED TO KNOW?
Online registration is mandatory and limited to a maximum of 2 hours per day. Always do this in advance to avoid that there are no more places available. Click here to book online!
Normal opening hours apply again (see below)
Showers & changing rooms remain closed
Toilets of "Den Dronk" are open, these are only accessible to our athletes.
A maximum of 25 athletes are allowed per hour, half of our normal capacity.
The social distancing must also be observed in our case: All athletes keep at least 1.5 meters distance
All sports equipment is thoroughly disinfected after use. Do you have your own sports equipment? Then feel free to bring them!
No experience is required, even beginners can take their first steps on the water with us.
Parking is possible at car park Huttegem, via Kortrijkstraat - The large car park is currently under repair and is not accessible.
From Wednesday 18/05 our tavern will provide a take-away stand with ice creams, pizzas, burgers, ... during the opening hours of the Cablepark
Opening hours 2020
Prices season 2020
Payment can
only
done
by card
. We do not accept cash.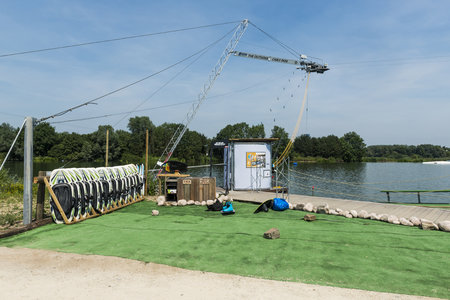 The Cable Park? What's that?
The Donkvijver in Oudenaarde is the perfect spot for some water sports. For years, The Outsider in the Flemish Ardennes has been organising various activities and sports here, both in and out of the water. Now, beginning on 1 April 2017, it will also open the first permanent cable park in East Flanders. A water ski cable track creates the option to kneeboard, water ski or wakeboard. In doing so, the water skier has a 'dry' start from the starting platform, which lies at right angles to the circuit cable. When you fall into the water you can just swim to the bank and walk back again. All ready for another go. Two cable tracks are to be set up in Oudenaarde. A 2.0 cable track for beginners and a 5.0 cable track for those with more experience. This means that everyone can come and have a go, and that everyone can water ski or wakeboard at their own particular level.
Who is it for?
Everyone is welcome at the Outsider cable park. You can come and have a go regardless of your experience. Read on to find out more about 'beginners, intermediates and advanced'. We also offer activities for the less mobile. Thanks to some successful crowdfunding late last year we are now able to equip our cable park to suit those with a disability. We plan to offer a sit ski for the more sporty and fun tubes as well. Fun tubes are small inflatable chairs, which are dragged across the water. The aim is also to develop the starting platform in such a way that people can depart easily on a sit ski. Support is offered with all water activities and our staff are ready and waiting to give you a warm welcome.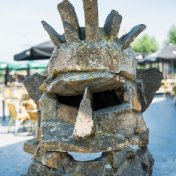 Or fill out our contact form via the button below.
https://theoutsidervlaamseardennen.be/en/contact