Reservation
Online booking is mandatory.
Bring your ticket & ID-card to the reception of the Cablepark.
Exclusive rent of the cable?
Contact us for more information.

Opening hours
Check the image underneath for all details.
Practical info
Bring your ID
Up to 5 days in advance: Rescheduling is possible free of charge. Cancellation does not give right to refund.
For subscribers: please cancel 24 hours in advance via info@outsidercablepark.be. In case of absence, made reservations will always be charged.
Corona measures
WHAT DO YOU NEED TO KNOW?

Online registration is mandatory and limited to a maximum of 2 hours per day. Always do this in advance to avoid that there are no more places available.
Normal opening hours apply (see below)
Showers & changing rooms will remain closed. The toilets will be open.

A maximum of 20 participants are allowed per hour

The social distancing must be respected on our domain: All participants keep at least 1.5 meters distance.
All sports equipment is thoroughly disinfected after use. Do you have your own sports equipment? Then feel free to bring them!
No experience is required, even beginners can take their first steps on the water with us.
Buy your ticket:
Water skis, kneeboard, life jacket and safety helmet are included in the price. You can optionally rent a wakeboard and/or wetsuit.

From now on, it is possible to make reservations for several people at once!

Buy your punchcard:
Water skis, kneeboard, life jacket and safety helmet are included in the price. You can optionally rent a wakeboard and/or wetsuit. The card always has to be used by one person.

Do you still have rides left from last season? Send an e-mail to info@outsidercablepark.be & we will provide you with a personal code to continue using your rides.

Interested in a year pass for unlimited access to the cable? Mail to info@outsidercablepark.be.

Have you already purchased a multiple-use card or season ticket and want to reserve your spot? Then click on the button below:
Opening hours season 2021:
On Saturdays & Sundays, the big cable runs more slowly between 14:00 and 16:00, aimed at initiation & the feeling success of our participants.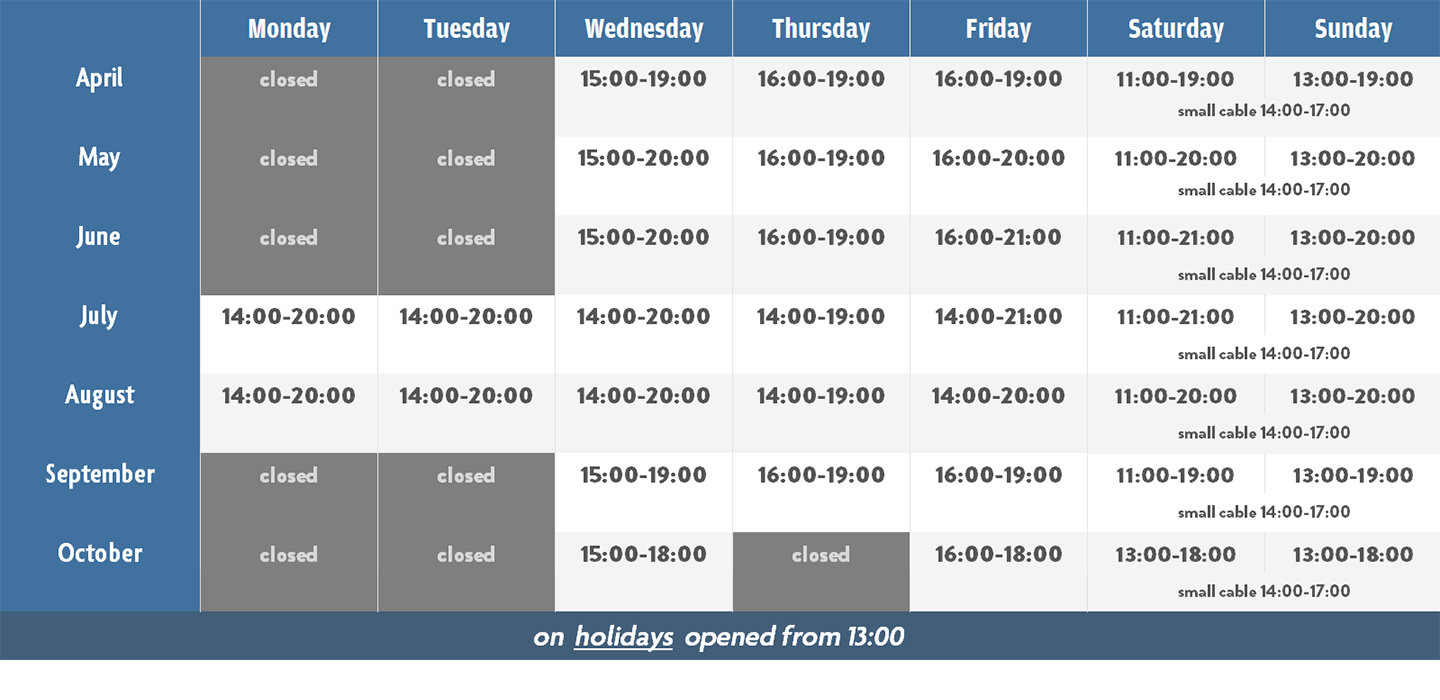 Prices season 2021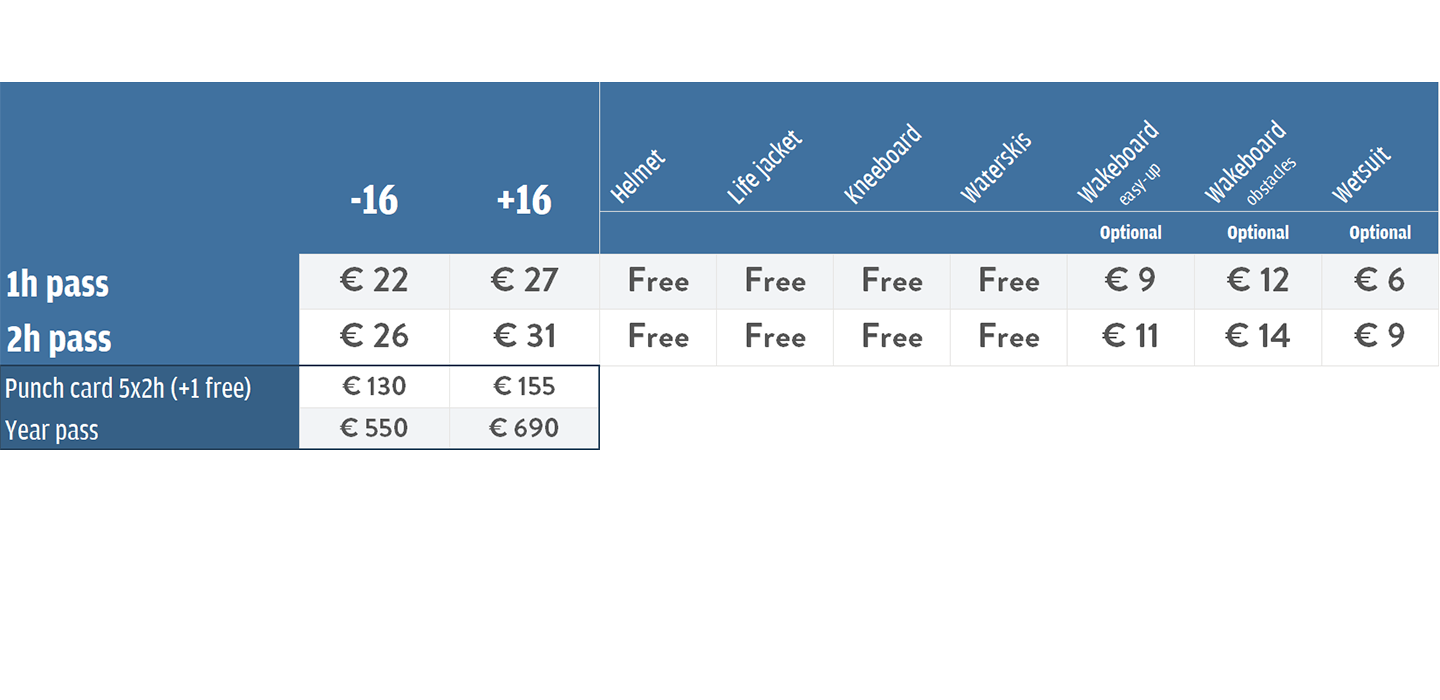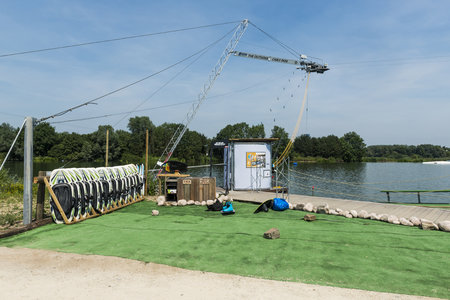 The Cable Park? What's that?
The Donkvijver in Oudenaarde is the perfect spot for some water sports. For years, The Outsider in the Flemish Ardennes has been organising various activities and sports here, both in and out of the water. Now, beginning on 1 April 2017, it will also open the first permanent cable park in East Flanders. A water ski cable track creates the option to kneeboard, water ski or wakeboard. In doing so, the water skier has a 'dry' start from the starting platform, which lies at right angles to the circuit cable. When you fall into the water you can just swim to the bank and walk back again. All ready for another go. Two cable tracks are to be set up in Oudenaarde. A 2.0 cable track for beginners and a 5.0 cable track for those with more experience. This means that everyone can come and have a go, and that everyone can water ski or wakeboard at their own particular level.
Who is it for?
Everyone is welcome at the Outsider cable park. You can come and have a go regardless of your experience. Read on to find out more about 'beginners, intermediates and advanced'. We also offer activities for the less mobile. Thanks to some successful crowdfunding late last year we are now able to equip our cable park to suit those with a disability. We plan to offer a sit ski for the more sporty and fun tubes as well. Fun tubes are small inflatable chairs, which are dragged across the water. The aim is also to develop the starting platform in such a way that people can depart easily on a sit ski. Support is offered with all water activities and our staff are ready and waiting to give you a warm welcome.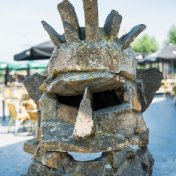 Or fill out our contact form via the button below.
https://theoutsidervlaamseardennen.be/en/contact