Catering
At the Donkvijver in Oudenaarde there are plenty of options for eating and drinking.
Do you enjoy after a brisk walk of a refreshing drink and a nice snack or do you like to have a nice dinner in a natural environment? Then Taverne den Dronk is the ideal opportunity!
If you would like to enjoy a refreshing cocktail and you want to see the wakeboarders from The Outsider Cablepark at work, the beach bar "Au de plage" is the ideal place.
And there are plenty of fall opportunities at The Outsider, check out our offer below.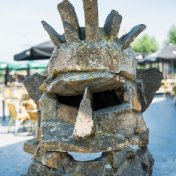 Or fill out our contact form via the button below.
https://theoutsidervlaamseardennen.be/en/contact