Climbing tower Blue Diamond
Activity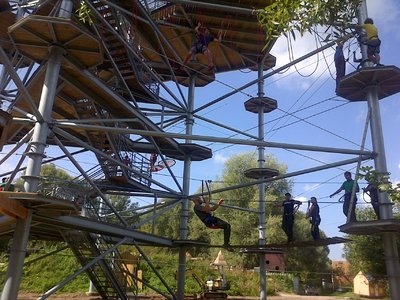 Admiring the Flemish Ardennes from 16 meters high: It is perfectly possible on our climbing tower The Blue Diamond! Climbing this diamond-shaped construction ensures pure sensation. Over, through and along ropes and other obstacles, you make your own way to the top. Someone who doesn't really like heights can choose to remain on the lower circuit and can give themselves the feeling of climbing and clambering. And at the same time, the real daredevil can dig into the climbing ropes at the third level and extend his own limits just a little more.
F.A.Q.
What clothing do I have to wear? Sporting attire and shoes with a good grip.
Accessibility? The level 0 and 1 and the skywalk are wheelchair accessible.
Fitness? This activity is doable for everybody with a basic shape. Because of the different levels you choose how high you climb and how difficult you want to make it.
Alcohol allowed? For everybody's safety we ask our guests not to consume any alcohol before or during the activities.
Guidance? For the 7 Summits activities you do not need any guidance, just a good sense of adventure!
Gallery