Climbing tower Blue Diamond
Activity
In the middle of our 7 Summits adventure park in Oudenaarde is a 16-metre-high climbing tower in the shape of a diamond, the Blue Diamond. These unique ropes course is the attraction where young and old can let off steam and hone their motor skills with rope bridges, stairs, climbing and balancing exercises, etc. Once everyone is securely in their climbing harness and has found a suitable helmet, we can start working on the test course. Then comes the real work: there are 3 floors with increasingly difficult obstacles and obstacle courses, where you can choose for yourself which challenge you want to take on and which you want to skip. At the top you will find a terrace that offers a great view of the Donkmeer and the centre of nearby Oudenaarde.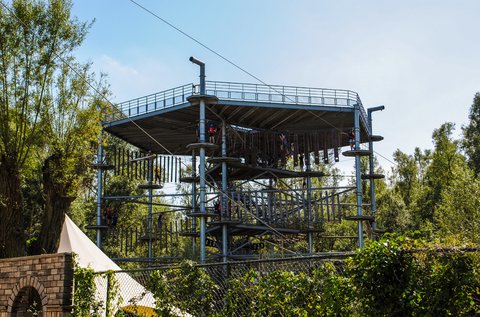 F.A.Q.
What clothing do I have to wear? Sporting attire and shoes with a good grip.
Accessibility? The level 0 and 1 and the skywalk are wheelchair accessible.
Fitness? This activity is doable for everybody with a basic shape. Because of the different levels you choose how high you climb and how difficult you want to make it.
Alcohol allowed? For everybody's safety we ask our guests not to consume any alcohol before or during the activities.
Guidance? For the 7 Summits activities you do not need any guidance, just a good sense of adventure!
Click system? The click systems work magnetically. Therefore, it is strongly discouraged for people with a pacemaker to climb on the Blue Diamond.
Gallery