Activity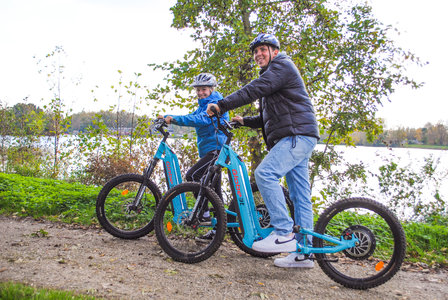 May it be with a touch of adventure, but where everyone can surely join in? Then go and explore the region with our offroad e-steps. With these motorised scooters you drive smoothly through rural offroad roads up to 25 km per hour. Thanks to the thicker tyres, no surface is a problem and your group can also explore the fields and mountain bike paths in the neighbourhood.
A bicycle helmet is provided and mandatory to wear. Extra rainwear can be provided so that your own clothing does not get dirty during the ride. Please bear in mind that splashing mud can cause a spot here and there.
F.A.Q.
What clothing do I have to wear? Sporting attire that can get wet and dirty. Best to bring a towel and spare clothes. Shoes with a good grip!
Accessibility? No access for people with disabilities.
Fitness? This activity is doable for everybody with a basic shape. With the help of your friends / family / colleagues, you can complete the course flawlessly.
Alcohol allowed? For everybody's safety we ask our guests not to consume any alcohol before or during the activities.
Guidance? For the 7 Summits activities you do not need any guidance, just a good sense of adventure!