Activity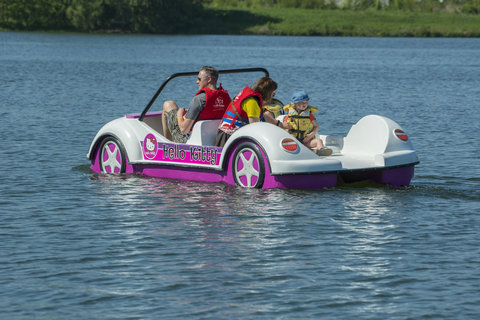 Our newest additions to our Donk Pond are the pedalos, also known as water bikes. These fun craft are very easy to steer, the only requirement is a little leg strength to keep the pedals turning.
Whether it is just the two of you on a small pedalo or the whole family on a large four-person pedalo, the choice is yours. Meanwhile, you can enjoy the fauna and flora on and around the pond. Who knows, you might even catch a ride with a heron!
F.A.Q.
What clothing do I have to wear? Sporting attire that can get wet.
Accessibility? Accessible to all participants if accompanied by an able-bodied adult. The access to the jetty is wheelchair accessible.
Fitness? This activity is doable for everybody with a basic shape.
Alcohol allowed? For everybody's safety we ask our guests not to consume any alcohol before or during the activities.
Guidance? For the 7 Summits activities you do not need any guidance, just a good sense of adventure!