Activity
We start with the graffiti-workshop, where the participants develop a certain message and bring it forward in an artistic and creative way in the form of a graffiti design. They will of course also have to be sketched. We will then give some basic tips and tricks and demonstrate so that the artists can transfer in a fun and relatively easy way their sketch to a real graffiti design. While the works of art are drying, the artists wait for the following challenge: make an appropriate rap. Rap is one of the elements of hip hop culture & fits perfectly with the graffiti-world. The raps are recorded using a mobile studio, so the teams can take their rap along on CD afterwards. The workshops can also be booked separately. The activity can be combined with a lunch and/or dinner before or after.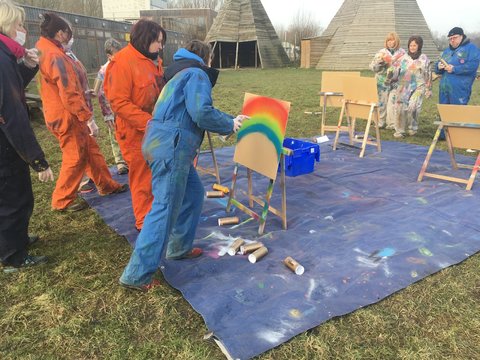 F.A.Q.
What kind of clothing should be best to wear?
We provide the necessary materials, paint packs and gloves for all participants.

Accessibility? this activity is accesible to everyone

Condition? Everyone can handle this activity perfectly with a basic condition. This is very accessible.

Alcohol allowed? For everyone's safety, we ask our guests not to drink alcohol before and/or during the activities.
Gallery