Activity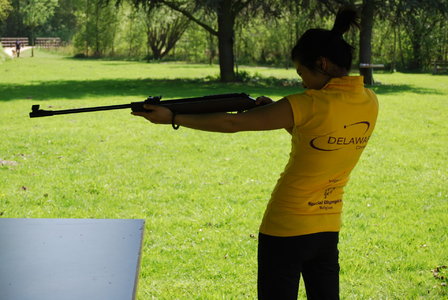 This playful activity is a combination of various shooting tests: archery - rifle shooting - blowpipe shooting - catapult shooting – elastic shooting. If everyone knows the tricks of the trade, we will try to find the real 'sharp shooter' of the group! While the colleagues are shooting, the other participants can quietly enjoy a nice aperitif at a table. As such, everybody gets to enjoy the show while waiting for their turn. One at a time all stands are handled and the final winner will be announced. Do you want to offer the guests a little extra? Surprise them with laser clay pigeon shooting, our winner! Laser clay pigeon shooting is similar to the traditional clay pigeon shooting. With five special shotguns, the participants shoot with infrared light (laser) on a reflective clay pigeon, which flies through the air, up to 50 meters! And the electronic scoreboard shows also the result of shooting exercises immediately. With outside sites, we make sure that shooting activities can be organised in a safe manner. The activity can be combined with a lunch and/or dinner before or after.
F.A.Q.
What kind of clothing do I have to wear?
Clothing that may get wet and dirty. And shoes with a sturdy sole are also very important. Make sure you also bring extra clothing for after the activity.

Accessibility?
This activity is not adapted to wheelchair users and / or the blind and visually impaired

Condition? Everyone can handle this activity perfectly with a basic condition. This is very accessible.

Alcohol allowed?
For everyone's safety, we ask our guests not to drink alcohol before and/or during the activities.
Gallery