Activity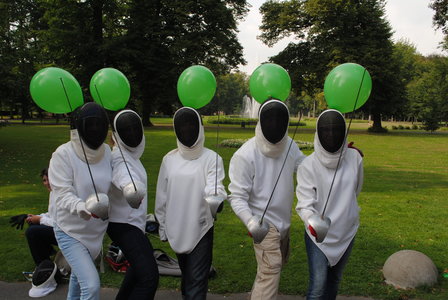 An original team activity with which your employees are usually not familiar. The fencing workshop can be organised both outdoor and indoor, anywhere in Belgium or also abroad. During this workshop, participants get a brief explanation of the fencing sport, the clothing and the equipment. Then everyone gets personal equipment: a vest, a mask, a glove and a sabre. In a playful way, the basic fencing techniques are taught. As soon as the participants manage the foot work and some attack and defence techniques, they can proceed with the "duel". At the end of the workshop, we conclude with a real balloons battle between the teams. Concentration, team spirit and stress resistance but also a lot of fun are here the key words. En garde! The activity can be combined with a lunch and/or dinner before or after.
F.A.Q.
What kind of clothing do I have to wear?
Clothing that may get wet and dirty. And shoes with a sturdy sole are also very important. Make sure you also bring extra clothing for after the activity.

Accessibility? This activity is not adapted to wheelchair users and / or the blind and visually impaired

Condition?
Everyone can handle this activity perfectly with a basic condition. This is very accessible.

Alcohol allowed? For everyone's safety, we ask our guests not to drink alcohol before and/or during the activities.

Gallery