Activity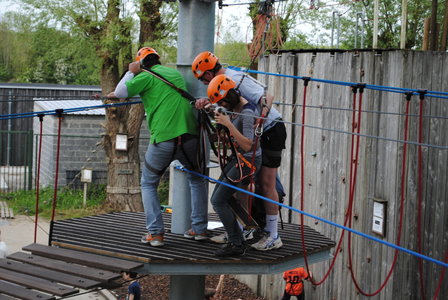 With a team trophy, several sub-teams face each other in an exciting competition. Through a sliding system the teams run through various activities, where they should put their best foot forward. Each activity is guided by fixed professional monitors. Each task contains a competition element. The scores are kept by the monitors. At the end of the team trophy, the ranking and the winning team are announced. We provide a fun something for the winning team. Which tasks there will be on offer, will be determined by mutual agreement. You can choose for an entire active trophy or a mix of adventure and thinking tasks. Some of the possibilities are: Bike & run, shooting, low rope course, bamboo play ball, giant Table Football Game, water scrabble, mobile team builders, marsh trail, barefoot footpath, Laser Battle, memory-run, petanque, urban golf, beach volleyball, go-cart-race. The number of tasks that is on offer depends on the duration of the trophy and on the number of participants. The activity can be combined with a lunch and/or dinner before or after.
F.A.Q.
What kind of clothing should be best to wear?
Comfortable clothing and shoes.

Accessibility? this activity is accesible to everyone

Condition? Everyone can handle this activity perfectly with a basic condition. This is very accessible.

Alcohol allowed? For everyone's safety, we ask our guests not to drink alcohol before and/or during the activities.
Gallery