Activity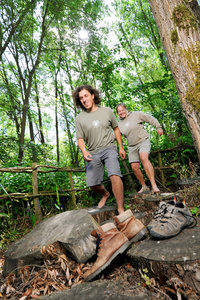 Walking barefoot on different surfaces: For our distant ancestors, it was an everyday occurrence, but today it is a sensation rarely experienced. On our barefoot path, pebbles, sand, bark, water and mud are waiting to give you a natural foot massage. Did you know that our feet have 30,000 nerve endings? So, they are the ideal stimuli for heart and blood circulation.
This activity is suitable for young and old. Accompanied by adults, even the very youngest can experience their first adventure here! From the age of 6, children can explore on their own.
F.A.Q.
What clothes should I wear? Sporty clothes that can get wet and dirty.
Accessibility? This activity is not accessible for wheelchair users. Provided that an adult accompanies you, the path is accessible for the blind and visually impaired.

Fitness? This activity can be done by anyone with a basic level of fitness. It is easily accessible.

Is alcohol allowed? VFor everyone's safety, we ask our guests not to drink alcohol before and/or during the activities.

Guidance? With the 7 Summits activities you don't need a super cool monitor, just a sense of adventure!
Gallery