Activity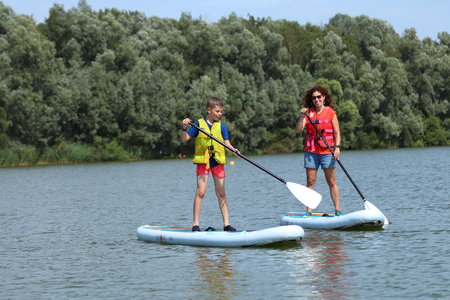 On the move with the new summer activity: SUPs or Stand-Up Paddleboards! In Hawaii, they have known about the SUP since the 1940s, but it only became popular here in 2001.
The SUP is a special surfboard with which you can propel yourself standing up on the Donkwater, in combination with a SUP paddle. And it is done completely safely with a life jacket on!
Supping is a very good training for the body, it is wonderful & certainly not difficult to make SUP-tours, after a short explanation of one of our monitors you can already start yourself. The SUP's are always meant for maximum 1 person and possibly 1 child who can sit along.
People who prefer a relaxed afternoon, can put the paddle away and enjoy the surroundings while bobbing their legs in the water. Looking for a sporty kick? Then you can race on the water until you are the winner!
You can choose between 1h or 2h SUP-fun.