Activity
Each participant plays an active role that they got in advance. The participants get in advance-clear instructions regarding the clothing that fits their character. During the aperitif, the participants are introduced to their fellow players… Hilarious moments guaranteed. But all of them are equally suspected in the gruesome murder of Mario Maertens, the MTB world champion who was found murdered in the morning in the swamp. It is up to each one of them to proof their innocence and more important… to identify the cold-blooded murderer! A fun activity in which no one can be trusted! And this in combination with an ordinary tasty dinner in our cosy Tavern den Dronk. Dinner can range from a light meal to an extensive dinner.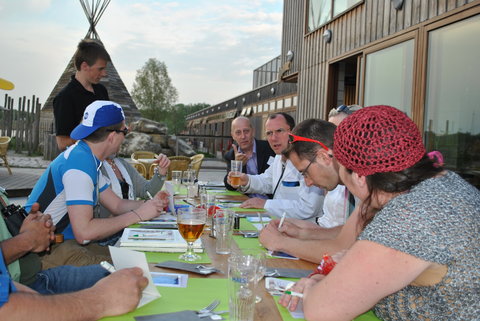 F.A.Q.
What kind of clothing should be best to wear?
The participants get clear instructions in advance regarding the clothing that fits their character.

Accessibility?
T
his activity is accesible to everyone.

Condition?
Everyone can handle this activity perfectly with a basic condition. This is very accessible.

Alcohol allowed?
For everyone's safety, we ask our guests not to drink alcohol before and/or during the activities.
Gallery