Activity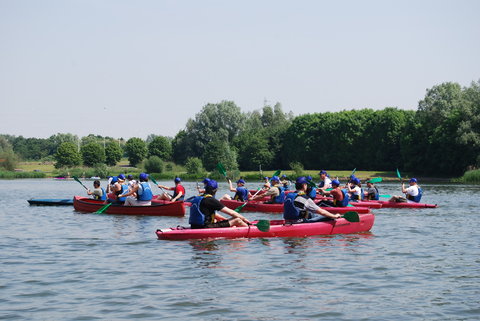 On expedition by kayak to the uninhabited island on the Donkvijver! The pond is 30 hectares in size and surrounded by shrubs, trees and bank vegetation. This is of course an excellent setting for adventurous kayaking trips. Those who prefer a more relaxed afternoon can put the paddle aside and quietly enjoy the surroundings while floating around in the middle of the lake. Sportspeople who like a bit of action can race around the water to their heart's content. Don't feel like going on this adventure alone? Choose a partner and jump in the kayak together!
F.A.Q.
What clothing do I have to wear?
Sporting attire that can get wet and dirty. Best to bring towel and spare clothes. Shoes with a good grip! 
Accessibility? The highly stable two-three person sit-on-top boats are accessible to all participants on the condition that a person with a disability is accompanied by a valid adult. The pier is accessible with a wheel chair. 
Fitness? This activity is doable for everybody with a basic shape.
Alcohol allowed? For everybody's safety we ask our guests not to consume any alcohol before or during the activities.
Guidance? For the 7 Summits activities you do not need any guidance, just a good sense of adventure! 
Tip! Don't forget your sunscreen. The reflection on the water makes you burn faster.
Gallery