Activity
Try to imagine that you can admire the Flemish Ardennes from 16 meters high. The Blue Diamond is not only called the star of the Flemish Ardennes, climbing this star-shaped construction ensures pure sensation. Over, through and along ropes and other obstacles, you make your own way to the top. Someone who doesn't really like heights can choose to remain on the lower circuit and can give themselves the feeling of climbing and clambering. And at the same time, the real daredevil can dig into the climbing ropes and extend his own limits just a little more. Then awaits the adventurous exploration of the marsh track: a unique experience. We make our way across a small wriggle bridge through poles, and so we get through the turbulent marsh through a variety of challenging obstacles – full of team tasks -and hopefully we arrive at the end dry! A helping hand from the team will be needed here and there to overcome the obstacles! Participants that want to do one less part, can via sneak paths witness the experiences of their colleagues from nearby and then join the group again. To finish off, there is a fun game of kayak polo. Of course, the success and enjoyment of the victory is an extra bonus: "Making winners is our job"! With the half day, you can choose 2 of the 3 activities. The activity can be combined with a lunch and/or dinner before or after.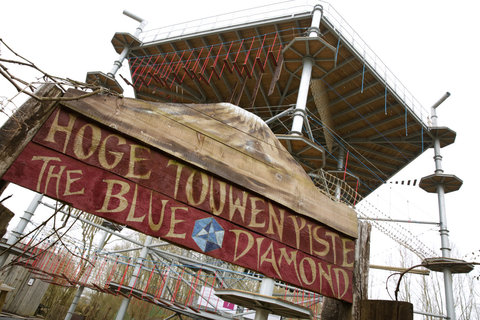 F.A.Q.
What kind of clothing do I have to wear? Clothing that may get wet and dirty. And shoes with a sturdy sole are also very important. Make sure you also bring extra clothing for after the activity.
Accessibility? The track is accessible to everyone.
Condition? Everyone can handle this activity perfectly with a basic condition. This is very accessible.
Alcohol allowed? For everyone's safety, we ask our guests not to drink alcohol before and/or during the activities.
Gallery