General information Cablepark
What do you need to know?

You can choose between:

individual hourly tickets: 1 or 2 hours
punch cards: 5x2 hours + 1 free, these cards are for one user only and expires after 1 year
season pass

Water skis, kneeboard, life jacket and safety helmet are included in the price. You can optionally rent a wakeboard and/or wetsuit. Do you have your own sports equipment? Then feel free to bring it along!

Online registration is mandatory and limited to a maximum of 2 hours per day. Always do this in advance to avoid places becoming unavailable.
A maximum of 30 people are allowed per hour
Up to 5 days in advance the booking can be rescheduled free of charge. Cancellation does not entitle you to a refund.
No experience is needed, even beginners can take their first steps on the water with us.
For those with experience, there is the possibility of renting the latest obstacle boards we have available through Billywake.

Opening hours season 2023:
On Saturdays & Sundays, the big cable runs slower between 13:00 and 17:00 (in April and October 13h-16h), focusing on initiation & success experience of our participants.
During the Easter holidays we are open daily from16:00 to 19:00.
If there is no registration 12h in advance (e.g. bad weather), the cableway will be closed.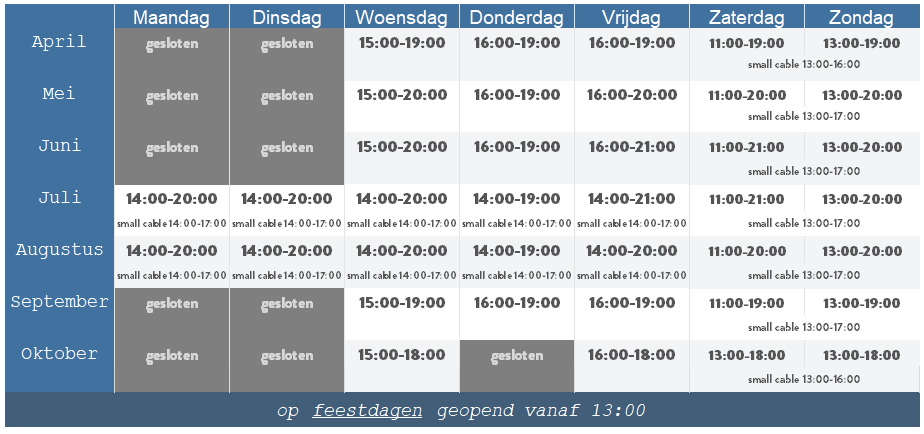 Prices season 2024:

Prices groups 2024:
It is possible to hire the cable(s) at any time outside public opening hours
Do you have a question or are you interested in renting the cable for a larger group? Mail to info@outsidercablepark.be
Prices include material and instructor