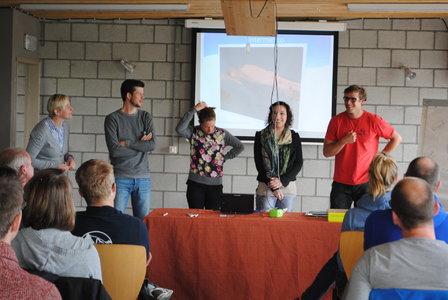 A suitable location for seminars/meetings, whether or not in combination with a tourist or sports program.
We have everything at your disposal to make a success of your seminar. We have an excellent infrastructure with the necessary amenities (WIFI, projector, screen, sound system…) on our own locations in Oudenaarde, Aalst, Brussels, the Ardennes, the coast.
We also like to organise your meeting or seminar at surprising locations. For this, we work together with a number of permanent partners such as the Centrum Ronde Van Vlaanderen (Centre of the Tour of Flanders), the Golf and County Club in Oudenaarde, Tour & Taxis in Brussels, The Schotte in Aalst, or any other location in Belgium or abroad.
We make sure that your meeting can start in a relaxed atmosphere. Everyone is welcomed in a friendly way and escorted to the room. During the whole meeting, you can always appeal to an employee of the Tavern Den DRONK. They will help you with all your questions and as quickly as possible. In the meeting room, a notepad and a ballpoint pen are always present for the participants. Would you like to eat something during the break? Please give us some advance notice, so that we can arrange this to your wishes.
The room has a maximum capacity of 150 people standing. Sitting there is a capacity of about 80 people. The room can be set up to your wishes with regard to the room preparation, presentation preparation, tables and chairs, etc. For a meeting, the room can also be arranged in a U-shape. There is also wireless internet in the room and you have a projector and projection screen.