Activity
A day full of adrenaline! The Laser Battle looks like a computer game but in real life. The teams battle each other with weapons that shoot infrared rays. Tactics, knowledge of the area and insight are the necessary requirements to win the battle. Whether you're a beginner or expert, there are always exciting missions to accomplish. Hills, forest, marsh, open plains, water and countless bulwarks make of each mission a challenge. The setting of this Laser Battle in the wild, with plenty of opportunities to hide and to fool the opponent. The next challenge is our Via Ferrata, built around the 9-meter high climbing tower. As balancing artists, we climb the tower sideways and find our way up. Whoever fails, hangs happily with his belt to the lifeline. After we have gotten up, thanks to the Via Ferrata, the participants will face their next challenge: the spectacular aqua-death ride on the Donk Ponds to the island! This death ride makes you hesitate perhaps at first, but once that one step is set forward, the acceleration will give you the necessary adrenaline! The participants come back to shore via the kayak taxi; this is organised by the participants themselves so that the waiting times will be limited. For larger groups, we provide our 15m high climbing tower (without death ride) as an alternative. The activity can be combined with a lunch and/or dinner before or after.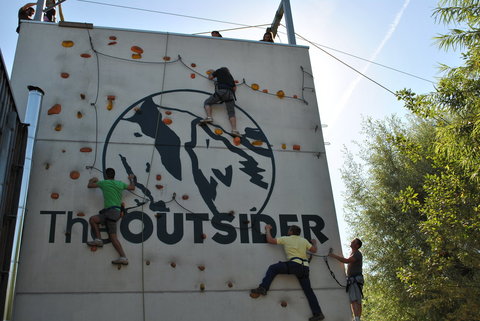 F.A.Q.
What kind of clothing should be best to wear?
Comfortable clothing and shoes.

Accessibility? his activity is accesible to everyone

Condition? Everyone can handle this activity perfectly with a basic condition. This is very accessible.

Alcohol allowed? For everyone's safety, we ask our guests not to drink alcohol before and/or during the activities.
Gallery