Activity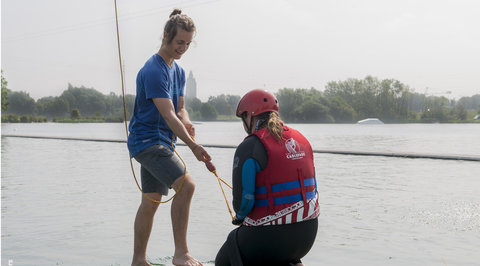 Everyone is welcome to attend one of our training courses!
We organise training courses during the school holidays under the motto "everyone can learn to water ski and wakeboard", and during which children and young people can learn the art of water skiing and wakeboarding. In five days participants will learn all the tricks of the trade! We start by kneeboarding, which is an easy way to begin, since the centre of gravity is much lower when kneeboarding. We then move on to water skis, ending up on a wakeboard.

Training courses are run by qualified monitors and are open to participants of three age groups, namely 10 to 12-year-olds, 12 to 16-year-olds and 16 plus. Training courses always start on a Monday and end on a Friday and are held each morning.

Be sure to consult the General Terms and Conditions concerning our training courses.

You will find the different training courses below
Gallery